Welcome to The Alex's Gardening Services website!
If you're looking for high quality and professional gardening services in Mendocino County, you've come to the right place!
Now Accepting New Commercial & Residential Clients
We carry general liability insurance!
Phone: 707-357-7164 – Text: 707-962-8369.
Alex's Gardening Services is a locally-owned business serving: Fort Bragg, Cleone, Mendocino, Caspar, Little River, Albion, Navarro, Philo, Boonville, Elk, Westport, Willits, Redwood Valley, Ukiah and surrounding areas..…. Keep your outdoor business space looking pristine all year round with our commercial property maintenance services…Please contact us today to setup a time to discuss your residential or commercial landscaping needs at: 707-357-7164. Text: 707-962-8369 24/7 Customer Service.
Our goal is to provide quality service with every visit. We strive to meet each or our client's individual needs and treat each property as if it was our own landscape.
The services we provide includes:
• Lawn maintenance services
• Commercial and residential property maintenance
• Edging
• Mulching
• Leaf removal
• Shrub removal
• Shrub trimming
• Spring clean up
• Fall clean up
• Winter property maintenance
• Parking lot litter clean-up services
And more…
Alex's Gardening Services offers comprehensive parking lot cleaning services, including: sweeping, pressure washing, trash removal, and more. We want to make your space feel welcoming to tenants, employees, and guests alike, and we'll work directly with you to create a parking lot cleaning schedule that works with yours.
We love what we do, and you will, too! See what our customers are saying Click Here
Upgrade your Commercial landscaping company to Alex's Gardening Services and receive 20% Off your first month of services. Phone: 707-357-7164. Text: 707-962-8369 24/7 Customer Service.
If your business or commercial property is located in Mendocino County Alex's Gardening Services is your go-to for professional grounds keeping and landscape maintenance services! 707-357-7164
What are your rates?
Every landscape is different. It's best to schedule your estimate for us to assess your needs and ensure we set the proper expectations. We have competitive rates and we don't believe in overcharging. If our estimate is not as competitive or it needs adjustment, we're always happy to provide a second look. Text: 707-962-8369
At Alex's Gardening Services we take great pride in being able to perform a wide array of gardening tasks including flower planting, bush and shrub trimming, lawn mowing, and a whole lot more…. If you think your yard can benefit from our gardening services, send us a text at: 707-962-8369 (24/7 customer service ) because we would love to know how we can help improve your garden.
Alex's Gardening Services is a leading name in lawn care services, both residential and commercial. Since we first opened our doors back in 2004, we have always sought to deliver reliable, high-quality lawn care to those who trust us with their property. We go to great lengths to make sure we exceed all expectations and earn your complete satisfaction.
24/7 Customer Service: (Text only) : 707-962-8369
The appearance of your commercial landscape is very important! It reflects your image to those that visit or work in your property every day. Alex's Gardening Services knows how to apply landscaping to enhance property values and create beautiful, functional and private outdoor spaces
Nothing can ruin an image faster for a business than a customer encountering trash & litter in their parking lot. Your company works very hard to maintain its image, why not provide a weekly parking lot cleaning service to keep it that way? Text: 707-962-8369
We carry general liability insurance! Please call for more information: Phone: 707-357-7164. 707-734-9008. Text: 707-962-8369
Venmo App Payment: Over 80% of our customers are already utilizing the Venmo App. It's EASY, SAFE and CHEAP. You will need to install the Venmo App in your Smart Phone and create an account. Once you have created an account locate us by typing Alex's Gardening Services into your search bar. From there you are just a button click away! Username on Venmo: @alexgardeningservices. If you have any questions at all do not hesitate to call Elsa at: 707-357-6456
Landscape Financing: now you can pay for our gardening services online with: Affirm, Pay Later by PayPal , Zip, Sezzle and Klarna financing options.
Alex's Gardening Services guarantees your satisfaction with our services. If you are unsatisfied for any reason with our services and notify us within (7) seven days of completion, we will return free of charge to correct the situation. 707-962-8369 707-357-7164.
24/7 Customer Service: Text: (707) 962-8369
We LOVE referrals! Get your next lawn service FREE for any referral who becomes a client with us!
Everyone likes saving money right? When you refer a friend we'll give you money back. For you first referral you'll receive $35, for you second you'll get $70, and for the third referral we will give you $100! Call or email for more information: Phone: 707-357-7164 Email: admin@alexgardeningservice.com
Yard clean up services after storm and wind damage:
Has the storm that recently hit your area taken its toll on your yard? Alex's Gardening Services offers help with its yard clean up services.
Storms and winds tend to leave a lot of destruction in their wake, leaving yards littered with:
Fallen trees, branches, and leaves
Dirt and debris
Broken fences

Our storm clean up and general yard clean up services focus on clearing this wreckage, restoring the original beauty of your landscaping and getting your life back to normal. We respond quickly to all storm clean up calls as we understand the hardships you suffer due to the storm and wind damage. Our yard clean up services crew comes to your aid as soon as possible and works hard to restore your yard to the order it was in.
24/7 Customer Service: (Text only) : 707-962-8369
We're happy to discuss and help schedule a consultation for your next commercial landscaping project!! Interested in our services? Please contact us: 707-962-8369 – 707-357-7164 . 24/7 Customer Service.
A nuestros clientes que hablan Español les queremos agradecer su preferencia y los invitamos a realizar sus pagos usando nuestro sistema de pago en linea en donde ademas pueden usar nuestras opciones de pago quincenal o mensual. Favor de llamar o enviar mensaje de texto al: 707-962-8369 para mas información
Does your home look a little shabby around this time of year? Could your property benefit from a good fall cleaning? Call Alex's Gardening Services for a fall clean-up!
24/7 Customer Service: (Text only) : 707-962-8369
---
---
24/7 Customer Service: (Text only) : 707-962-8369
It can be hard to keep up with mowing your lawn and trimming your bushes. You have a life to live. Let us handle your lawn care for you. We'll make your yard look beautiful all year long. Please call: 707-962-8369 – 707-357-7164
---
---
We love what we do, and you will, too! See what our customers are saying
''We hired Alex and his lovely family again and cannot recommend them enough. They are kind, extremely hard working, and they treat our property like it is their own, with true care. We have hired them many times in the past, and we are always blown away by how much they are able to accomplish, and how goodhearted they are. I'm happy to provide a reference for them if you have any questions. Thank you!" S.L."
Winter Property Maintenance
Just because your grass stopped growing doesn't mean your property stops needing care! During the winter we visit to clean up dead leaves & debris
When we say year round property maintenance here at Alex's Gardening Services, we mean it! In the winter we continue to ensure that your hard surfaces are free of debris, perform bed maintenance, and make sure that your leaves are taken care of on your property. There is a lot more to proper land care than simply mowing during the growing season.
By removing leaves from your turf over the winter we can help to ensure that your grass doesn't get smothered as it develops new growth in the spring. In addition, you'll enjoy coming home to a well maintained property during the winter months!
Do you need a grass mower or edging service for your lawn? Contact us at (707) 357-7164 today! Text: 707-962-8369
Alex's Gardening Services: 707-357-7164
Weed Care: As part of our landscaping maintenance services, we will help minimize and control weeds in your landscaping by hand weeding and applying weed control treatments to your flower and plant beds.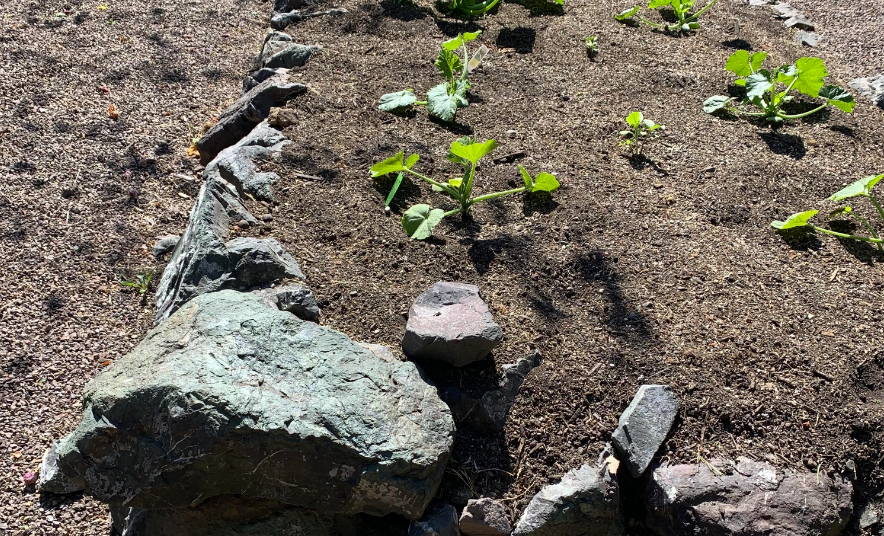 Why Add Mulch?
Adding mulching to your lawn maintenance routine can be beneficial, especially if you are looking to improve the quality of your soil. Adding mulch can significantly improve the soil quality because it provides the nutrients that the soil needs. The more nutrients it has, the more the roots will be able to absorb, which then leads to a healthier growth of all of the plants in the area. If you decide to add mulch, you should hire Alex's Gardening Services to help you get started.
Our mulching service will deal with the entire dirt bed, and we will make sure that the mulch will be evenly distributed. But before we start with the process, we will first consult with you to determine whether you will prefer organic or non-organic mulch. Once you have decided on either one, we can suggest suppliers that sell quality mulch. Upon application, we will carefully place them on top of the soil, carefully avoiding the plants because it could kill them. Have us add the mulch to your soil, and see the improvements for yourself!
Trimming and Pruning: With this service, we will trim and prune any shrubs, plants, and ornamental grasses to ensure good shape and plant health.
Leaf Removal: We will remove fallen leaves from both your landscaping beds and turf areas.
---
PAY ONLINE – You can pay for our services online and receive 10% off (commercial properties only) when you pay with: PayPal – Venmo
Venmo username: @alexgardeningservices
PayPal: info@alexgardeningservices.com
---
---
---
---
24/7 Customer Service: (Text only) : 707-962-8369